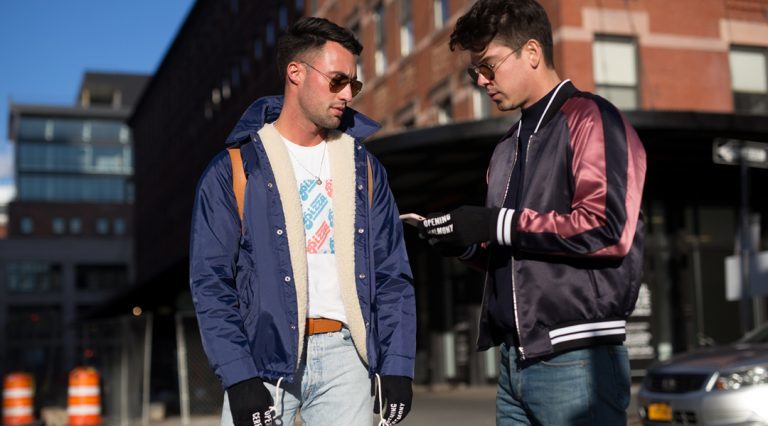 Men's streetwear is booming! Brands and influencers alike are taking their style inspirations from the streets and crafting looks based on their findings. This has resulted in the unique stylist look called street style! The best thing about this style is that it is that there are no rules and although there are some major trends within it, you are really able to dress however you want.
We love this trend because it encourages people to express themselves however they want and to break the molds of traditional fashion. But, there are some major trends from men's streetwear that have emerged and we would love to share them with you!
After checking out all the biggest influencers in the game we have found the best street style trends of right now so we can share with you an ultimate outfit guide. 
Men's Streetwear Outfit Guide
Monochrome Look
Monochrome outfits are all the streetwear rage. They are quite simple looks but make such a statement, and we love how they look! This outfit breaks almost all of the traditional rules of fashion, being that you cannot wear the same color on the top and bottom because it clashes. But we have taken back this idea and now rocking the same color on a shirt and trousers is what we all need! 
Wearing a monochrome outfit consists of wearing the exact same colored top and bottom, or can be different shades of the same color! A monochrome look is super fun to wear and it results in a bold, edgy look. 
Style a monochrome look with a pair of white sneakers to finish off the look. 
Light Wash Jeans 
The best street style jean option is light wash jeans. These have a more vintage and rustic feel that fits the men's streetwear vibe. A pair of light wash jeans are also a staple to any man's wardrobe. You really can't go wrong with light wash jeans and a classic t-shirt. 
Also, be sure to look for a pair of jeans with no distressing or other details as plain jeans look best.
Style a pair of light washed jeans with a t-shirt, sneakers, and belt for a fashion-forward look that's both hip yet subtle. 
Cross-Body Bags
The best thing that has come out of street style is that men are now encouraged to have and wear bags! This is great because women no longer have to carry everything and men can keep their belongings safe and close to their bodies. It really is a win-win! 
What's also great is that they are super stylish and can add a really nice touch to any look. A high-end brand name bag can become the focal point to your look and make a luxurious statement.
Also, the bag trend is expanding to included other styles of crossbody bags such as side body book bags and more. The least we can say is that we are obsessed! 
Checked Top & Checkered Bottoms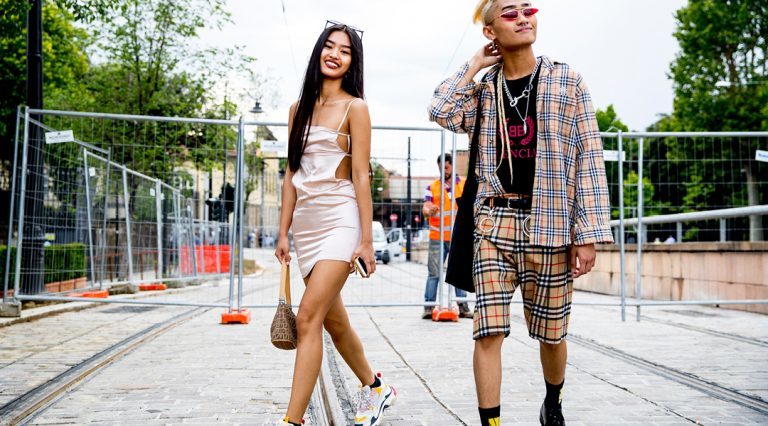 This streetwear trend is much like the monochrome trend but with a little more going on - patterns! We all love the checked pattern on our clothing, and a hot street style look is combing our checked tops and bottoms into one look. We think it looks amazing and really makes you stand out! In a good way of course. 
You can also follow this trend with other patterns like stripes, or even some crazy and loud prints. There is no limit to how far you can take this co-ord street style trend. 
Style this with a pair of men's brogues and silver jewelry for a head-turning, high fashion look. 
Rounded Sunglasses
We love a good pair of sunglasses that are on-trend, and right now its all about the circle lenses. These are ultra-fashionable and although the circle lens is all the rage, you can also branch out to some other soft edge sunglasses! 
Sunglasses are a must and add a nice finishing touch to any look. Try to pair them with a trendy beanie for the ultimate street-inspired look. 
Converse Sneakers
We know that chunky sneakers have been all the rage for some time, but the classic converse sneakers are making their return! These are such a classic shoe that can be worn with any look. They add the perfect amount of playfulness and youth to a look that is unheard of from any other shoe on the market.
As mentioned, a converse sneaker can be styled with any outfit. We find they look great with a pair of simple jeans, a white t-shirt, and a trendy jacket. 
If you haven't already tried out some of these men's streetwear looks, this is your push to take the leap and try them out! You really can't go wrong with any of these pieces. I also encourage you to be creative and branch out with your looks! Street style is all about expression and we at Fashiola love to see your personality through your clothing.
Time to hit the streets in style. 
Love Samantha