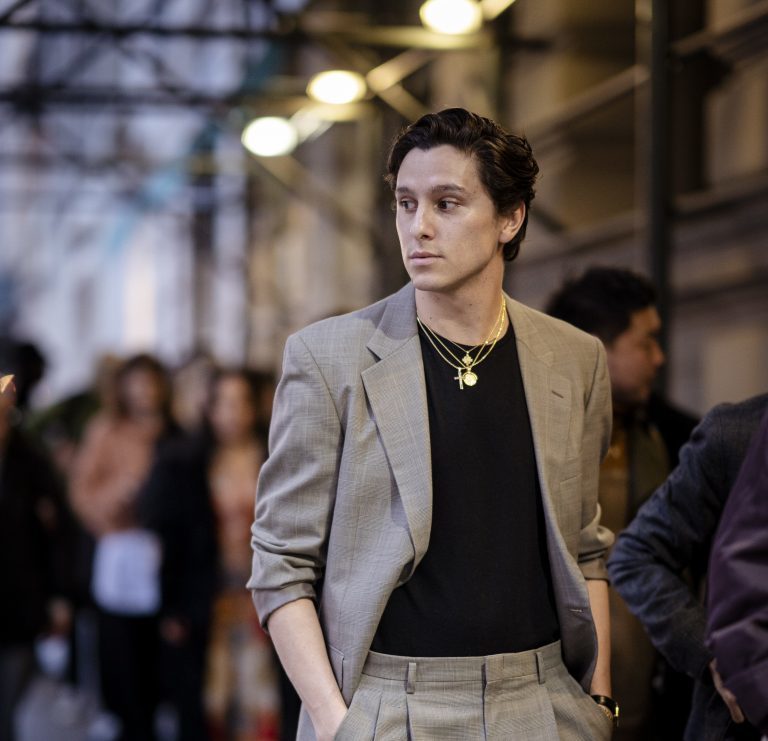 So, you've found yourself here because you can't quite figure out what to wear to a club. You don't want to be overdressed but you don't want to look like the party just a stop on your way to Netflixing all night on the couch in your sweats. I've created this club outfits for men guide so that whenever you're faced with the dilemma of getting dressed for a Friday night at your favorite club, you can just pop back here and get inspired. 
Keep things simple


I'm going to start this whole thing with the simplest club outfit for men just to prove how easy your life actually is. I've said it before and I'll say it again, all you really need is a few really good basics. A basic t-shirt, maybe a striped one if you're feeling wild, will look perfectly polished if it's of good, high-quality cut and fabric. Pair it with some dark washed jeans in a classic straight or tapered fit, add in some clean minimal sneakers and you're done. Oh and just because things are simple doesn't mean they have to be typical, skip the Vans (everyone else will be wearing them) and go for a design that is a little fresher.
Style around one classic short sleeve shirt

Your go-to success staple for men's club outfits is a short-sleeve button-up shirt. It's dressed up but not as formal as a long-sleeved oxford shirt and let's face it, long sleeves can get a little warm in the club. You can go for a bold design with bright colours and funky prints or keep it a little more pared-back with a crisp white or subtle colour. The nice part of this club outfit is that the shirt is really your only concern, once you've got a great short sleeve shirt you can keep the rest of the outfit simple with a few essentials. If I were you, I'd go for something a little bit more outspoken, it's a night out, have some fun! A retro style of shirt with a  camp collar is also a  classic winner for classic yet ultra-cool style.
Don't forget to Accessorize 
Men, you can have as much fun as we have with accessories so don't forget to do so! Men's jewellery can add a nonchalant, rock & roll edge to your look and will make you feel and look confident in your own style. Have a look through our selection of Men's rings, necklaces and bracelets from brands like Tom Wood and Nialaya. You're even allowed to wear a bag nowadays! Add some urban yet sophisticated style with a bum bag worn as a crossbody bag, you can thank me later for all the convenience it brings to your night. 
Go for Elevated streetwear

Nowadays, streetwear is much than logo hoodies, beanies and sneakers that al your friends have as well. Men's streetwear can be perfect for club outfits for men, you just need to shop from the right brands, I'd like to call this elevated streetwear as it has that casual-cool feel but still feels luxurious with avant-garde designs, prints and silhouettes. Use Justin Bieber on a night out as your inspiration for this, don't be afraid to mix and match and make turning heads (but in a good way) your main goal. 
Dress Down a Suit

If you're heading to fancier place or have a night ahead of you full of VIP treatment, you might want to think about wearing a suit. But, please, be careful here not to look like you just came straight from your boring office job. Dress down your suit so you look sharp but not uptight. Swap your buttoned shirt with a more casual T-shirt or cotton Polo shirt and swap your loafers with a pair of casual kicks or boots that look a little tougher. Don't forget to accessorize (counts for all outfits) with a few subtle details like a pocket square or men's ring. 
Pick your shoes wisely

Some clubs may not let you in with sneakers if you're going to an underground rave you probably won't be having that problem... Whether you can wear sneakers or not, make sure your shoe choice is original. Find something that suits your style and go with it rather than wearing the same old Vans over and over again. For something dressed up yet unbearably cool, Chelsea Boots will work perfectly, especially when they are sturdier with a thicker sole. 
When it comes to club outfits for men, there are two options: keep it simple, or go the avant-garde way. Whatever you choose, you'll look stylish and fresh and more importantly; not like everyone else. 
Love Annabel