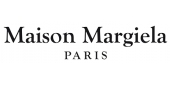 Maison Margiela
This French luxury fashion house was founded by Belgian designer Martin Margiela in 1988. Haute couture and ready-to-wear collections are offered each season. Producing womenswear, menswear, jewellery, footwear, fragrances and home goods, the brand is known for deconstructive and avant-garde designs made with unconventional materials.
Find 1.052 Maison Margiela products from 7 shops on SALE at Fashiola.ph.
Get up to 80% off on Maison Margiela products!
All Maison Margiela products